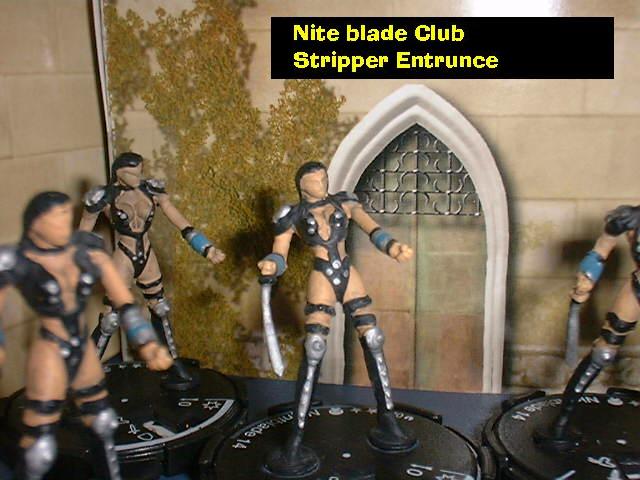 Your Mage Knight Army's Faction Might be redneck if:


Your Shield Maidens have tattoos.
You ever changed your attack pattern because there was a squirrel in one of the trees.
You have a Deep Spawn stuffed and mounted above your mantle.
Your dragon is Primer-colored.
You have a ranged attack that involves chawin.'
Your figures include a parole officer.
Your mounted figures have ever staged a rodeo.
You have a Lich that dresses like Elvis.
Your battle supplies include Styrofoam coolers, carefully marked "beer" or "bait."
You have Imps with suppressed Alien Abduction memories.
The enemy Zombies are afraid of you BO.
For action tokens, you use little empty beer cans...
...and you don't consider it 'pushing' until you get up to a six-pack.
You refer to fatigued characters as "sleepin' one off."
Shoes, scabbard, belt - if ANYTHING you wear is made from Draconum Skin...especially FAKE Draconum Skin.
Two Words: Fuser Wedding
When your Necromancer raises 'dead soldiers' he gets bottles of beer.
You ever charged the enemy accidentally because you were running from the cops.
You ever had a centaur race and the jockey fell off.
Your Slasher's belt buckle is bigger than his shield.
Your Magus has ever levitated someone for the purpose of getting him a beer.
Your Seething Knights are in camouflage.
Your Paladin's armor doesn't cover his beer gut.
Your battles start with the phrase "Dare Ya'."
You prefer the Leech Medic, because the others healers are 'fantasy' figures.
You refer to the Chaos Mage as an 8-pointer.
You refer to your Nightblades as Biker Babes.
You throw Crypt Worms into water terrain as bait.
You ever charged at a terrain piece just to see what would happen.
Your Amazon Queen's hairdo is a Beehive.
Your battle cry is belched.
Your Black Powder Rebels are all NRA members.
Your army has ever stayed in the starting area until the barbecue was over.
Your Faith Healer has a Rolex and/or a show on Cable.
Your main use for Dwarf fighters is to Toss them.
Your Iron Lung carries a tackle box.
Your Standard Bearer carries the Stars and Bars.
Your Bone Grinder's hammer was bought from Ronco and performs six functions.
Your Taskmaster doesn't use whips to motivate troops, but Budweisers.
When your army is in marching formation you say "we got ourselves a convoy!"
You ever refer to the enemy as 'Smokey.'
Half of your figures are named 'Bubba.'
ANY of your female figures are named 'Bubba.'
More than 1 third of your figures named their sword 'Bubba.'
Half your army is related to each other...
...from more than one direction.
Your werewolf uses a doggy door.



...if your terrain includes:

chariots up on blocks.
a beer can pyramid.
bowling lanes.
kudzu.
a replica of Graceland.



...if your Chariot has:

NASCAR stickers.
ridiculously large tires for off roadin'
ever been repossessed.
been altered to be an 'extended cab'
a trailer hitch.
a Chaos Mage tied to the bumper.
a driver with a "Truckin' Institute" t-shirt.
been turbo charged.
the turn signal constantly on.
ever done a bootlegger reverse.
mudflaps...esp. with naked-elf cutouts
a gunrack.
a dark black paint-job, with the number '3' on the side.
a John Deere label on any part.
a siphon hose.
a sign saying "You've seen our battlefield, now go home."



Return to the Big Index

Role Playing game index.